Dapanji
From Chinese Food Wiki
''Dapanji'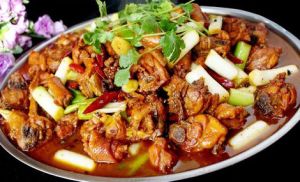 Dapanji
| | |
| --- | --- |
| Alternative names | 大盘鸡 |
| Pinyin | dà pán jī |
| Type | Stewed |
| Course | main course |
| Place of origin | China |
| Region or state | Shawan, Xinjiang |
| Associated national cuisine | China |
| Created by | Chinese |
| Invented | Chinese |
| Serving temperature | >100℃ |
| Main ingredients | Chicken, potato |
| Ingredients generally used | Green pepper, red pepper, ginger |
| Similar dishes | Unknown |
| Cook Time | 60 mins |
Introduce
"Dapanji (Simplified Chinese: 大盘鸡 or 新疆大盘鸡; Traditional Chinese: 大盤雞 or 新疆大盤雞; Pinyin: dà pán jī ;)", also called Shawan Big Plate Chicken or Dapanji Chicken, is a famous food in Xinjiang. It originates in 80s' of 20th century. It is stir-fried with the main foodstuffs of chicken, potato and red chili, and the chicken of dish is smooth and spicy and potato is glutinous tasty. "Dapanji" is rated as one of the top 10 classical dishes in Xinjiang.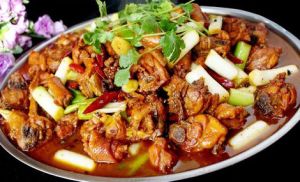 Taste
Fresh and spicy.
Characteristics
Spicy, fresh and fragrant, bold and heroic.
In Chinese(Pronunciation)
Simplified Chinese: 大盘鸡 or 新疆大盘鸡;
Traditional Chinese: 大盤雞 or 新疆大盤雞;
Pinyin: dà pán jī ;
Nutrition
Calories (kcal) 121.78(Per 100 grams)
Carbohydrate (g) 7.53(Per 100 grams)
Fat (g) 5.09(Per 100 grams)
Protein (g) 10.65(Per 100 grams)
Cellulose (g) 1.66(Per 100 grams)
Calories
Dapanji (Da Pan Ji) is estimated to be 122 kcal per 100 grams of calories.
Cuisine
Origin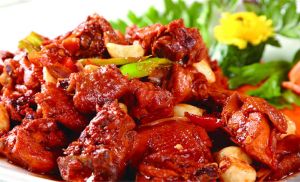 The real origination of this dish is difficult to investigate. The authority statement is as following.
In 80s' of 20th century, a peasant called Li in Shawan County, Xinjiang Uygur Autonomous Region ran a restaurant named "Full of friends(满朋阁)". He is good at cooking Laziji. Once upon a time, a staff of a construction company came to eat Laziji and felt it good taste, but the quantity is deficient. When he saw Li take a whole chicken from the back kitchen, he asked Li to cook the whole chicken. But, there is not a big plate for the cooked whole chicken. So, Li used a plate that is used for noodles serves with sauce to serve the spicy chicken. These guests felt very excited after having it and their neighbor guests also want to have this spicy chicken served with big plate.
It is stated that originally Li wrote the dish receipt on a small black board, and called this "Stir-fried spicy chicken". Latterly, more and more restaurant launched this cooking method using a big plate to serve chicken and "Big Plate Chicken" reputation spreads very rapidly. In a short time, many restaurant marked with "Dapanji(Big Plate Chicken)" appeared beside the national road in Shawan county.
In 1992, boss Zhang in Shawan Xinghua village firstly registered the brand of "Dapanji(Big Plate Chicken)", and this rural local dish initiated its road of brand.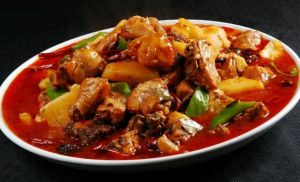 History
Classic allusion 1
It is stated that Zuo Zongtang in Qing Dynasty won in Xinjiang and he spoiled soldiers with food that is cooked with local chicken and chili, and this is the predecessor of "Dapanji(Big Plate Chicken)".
Classic allusion 2
It is stated that Dapanji(Big Plate Chicken) is started from the long-distance drivers. Many years ago, it must pass through Shawan County from Urumqi to Yili, Tacheng and Altay etc. It spends half a day from Urumqi to Shawan County due to the bad road conditions, and the most of drivers were very hungry. So, there are many small restaurants specially serving for these drivers by the sides of the road in Shawan County. One of the chefs from Sichuan can stir-fry chicken with stimulating appetite dry chili and green pepper, and accompanied by potato and broad noddle, and is very welcome. Latterly this dish gradually comes out to be "Dapanji(Big Plate Chicken)".
Classic allusion 3
It is stated that before liberation, Zhang's, a master hand in Sichuan who is good at cooking came to Shawan County in Xinjiang in order to avoid war, and operated a small noddle restaurant. Latterly, a guest issued a few words without thinking, but reminded chef Zhang at the time of ordering, "Fried noodle is too dry, mix it with some soup and noodles together." Later, the dish becomes famous in the north and south of Yangtze River.
Health
This chicken belongs to a food with high protein and low fat.
The potato is rich in protein and a variety of vitamins, easily digested and absorbed.
Ingredients
Yellow hair chicken
Big Size Potato
Green Pepper
Red Pepper
Ginger
Onion
Bi Thick Broad-bean Sauce
Dry Chili
Prickly Ash
Star Anise
Cinnamon
Soya Sauce
Beer
Salt
Sugar
Oil
Recipe
Step 1
Clean the chicken and cut into small nuggets, put in boiling water to remove blood and residues; cut dry chili into segments and onion and ginger into slices.
Step 2
Pour 2 big spoons of oil in a pot and medium heating, and put prickly ash in and remove them until fragrance.
Step 3
Put 1 big spoon of sugar in and mix fast until it is melted; when the sugar turns into brown, put nuggets in and stir-fry quickly.
Step 4
Add broad-bean sauce, dry chili, onion and ginger in and stir-fry, and add 1 small spoon of soya sauce and stir-fry evenly.
Step 5
Pour more beer in the pot over the chicken nuggets.
Step 6
Add 2 star anise and 1 cinnamon in, open fire to boil and stew for 20 minutes with medium and small fire during which adds beer if it is dry.
Step 7
Peel the potato and diced and put in the pot when the chicken is medium well, and add some salt and stir-fry evenly.
Step 8
Stew it 15 more minutes, when the potato is well done, add diced green pepper and red pepper in and serve after evenly stir-fry.
Similar Food