Yang Chun Noodles
From Chinese Food Wiki
Yang Chun Noodles
| | |
| --- | --- |
| Alternative names | 阳春面, the plain noodles, the plain noodle soup |
| Pinyin | Yang Chun Mian |
| Type | Noodles |
| Course | |
| Place of origin | China |
| Region or state | Shanghai |
| Other | Less than 10 minutes |
Introduction
Yang Chun Noodles (Simplified Chinese: 阳春面; Traditional Chinese: 陽春面; Pinyin: yáng chūn miàn;), also called the plain noodles or plain noodle soup, is a kind of noodles that served only with noodles and soup. It is included into the Suzhou Noodle Soup. Yang chun noodles is a famous traditional noodles originated from Shanghai. It tastes refreshing and savory, and is deeply loved by the local people.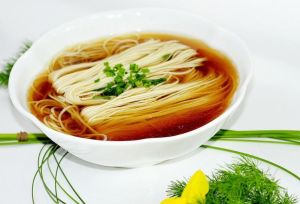 Taste
Fresh and refreshing.
In Chinese(Pronunciation)
Simplified Chinese: 阳春面;
Traditional Chinese: 陽春面;
Pinyin: yáng chūn miàn;
Nutrition
Calories (kcal) 103.87(Per 100 grams)
Carbohydrate (g) 15.12(Per 100 grams)
Fat (g) 3.64(Per 100 grams)
Protein (g) 3.19(Per 100 grams)
Cellulose (g) 0.45(Per 100 grams)
Calories
Yang Chun Noodles (Yang Chun Mian) is estimated to be 104 kcal per 100 grams of calories.
Origin
Yang Chun is referring the tenth month of Chinese lunar calendar. And it is Chinese custom to call ten "Yang Chun". The noodle was priced as ten. So people call the noodles Yang Chun noodles and the name is still used now.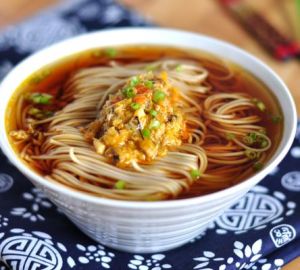 Recipe
Preparation
Yang Chun Noodles is very easy and quick to prepare and make, but there is one key ingredient that must be used: lard. Lard is the spirit of the noodles, and without it there is no flavour. If lard is not available for you, seasame oil can be a good alternative choice.
Ingredient
Noodles
100g
Lard or Seasame Oil
1/2 teaspoon
1 or 2 tablespoons
Salt
1/2 teaspoon
MSG
1/4 teaspoon
Soy Sauce
1 teaspoon
Direction
1. In serving bowl, combine soy sauce, sugar and lard (or sesame oil). 2. In another pot with boiling water, cook the noodles accordingly. 3. Pour around 2 cups of liquid for cooking the noodles into serving bowl to tune the seasonings. 4. Transfer noodles and top with chopped spring onion. 5. Serve hot!
Similar Food