Dan Dan Noodles
From Chinese Food Wiki
''Dan Dan Noodles'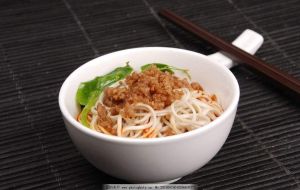 Dan Dan Noodles
| | |
| --- | --- |
| Alternative names | 担担面 |
| Pinyin | Dan Dan Mian |
| Type | Noodles |
| Course | main course |
| Place of origin | Chengdu/Zigong |
| Region or state | Sichuan |
| Associated national cuisine | China |
| Created by | Chinese |
| Invented | Unknown |
| Serving temperature | >100℃ |
| Main ingredients | Noodles |
| Ingredients generally used | Noodles |
| Similar dishes | Unknown |
| Cook Time | 20 mins |
Introduction
Dandan noodles or dandanmian (Simplified Chinese: 担担面; Traditional Chinese: 擔擔麵; Pinyin: Dàndàn miàn) is a noodle dish originating from Chinese Sichuan cuisine. It consists of a spicy sauce usually containing preserved vegetables (often including zha cai (榨菜), lower enlarged mustard stems, or ya cai (芽菜), upper mustard stems), chili oil, Sichuan pepper, minced pork, and scallions served over noodles.
Sesame paste and/or peanut butter is sometimes added, and occasionally replaces the spicy sauce, usually in the Taiwanese and American Chinese style of the dish. In this case, dandanmian is considered as a variation of Sesame Paste Noodles (Ma Jiang Mian 麻醬麵), sesame sauce noodles. In American Chinese cuisine, dandanmian is often sweeter, less spicy, and less soupy than its Sichuan counterpart.[1]
In Chinese(Pronunciation)
Simplified Chinese: 担担面;
Traditional Chinese: 擔擔麵;
Pinyin: Dàndàn miàn;
Nutrition
Calories (kcal) 145.62 (Per 100 grams)
Carbohydrate (g) 16.99 (Per 100 grams)
Fat (g) 7.08 (Per 100 grams)
Protein (g) 4.04 (Per 100 grams)
Cellulose (g) 0.56 (Per 100 grams)
Calories
Dan Dan Noodles (Dan Dan Mian) is estimated to be 146 kcal per 100 grams of calories.
Evaluation
China's top 10 famous noodles
Origin
he name refers to a type of carrying pole (dan dan) that was used by walking street vendors who sold the dish to passers-by. The pole was carried over the shoulder, with two baskets containing noodles and sauce attached at either end. As the noodles were affordable due to their low cost, the local people gradually came to call them dandan noodles, referencing the street vendors. Literally, the name translates as "noodles carried on a pole", but may be better translated as "peddler's noodles".
A variety of English spellings are used. The first word may be either dandan, dundun or tantan, and the last word may also be spelled mein (Cantonese pronunciation).
Difference
Sichuan Style
Dan dan Noodles (担担面, dan dan mian) is one of the most famous of Sichuan street foods. The freshly boiled egg noodles are served in a savory, spicy broth topped with crispy pork and peanut flakes. Simply stir everything together with a pair of chopsticks to coat the noodles with a bit of everything and slurp! The numbing, smoky, spicy sauce will shock your taste buds, leaving you craving for more.
In Sichuan restaurants in China, the dan dan noodle dish is more of a snack than a main and is usually served in a small bowl. The noodles are more soupy — mostly immersed in a thick red broth made with chili oil, with a small amount of pork on top. The broth can sometimes be too spicy to handle for most people, but it depends on the chef.
America Style
When the dish was introduced in the US, it was transformed and now looks more like a pasta dish — boiled noodles with a meat sauce on top. Sometimes the sauce is more sweet and sour than spicy, almost like a General Tso stir fry (e.g. the Dan dan noodles at Pei Wei). Sometimes the chef will mix Chinese sesame paste into the chili oil to make the sauce creamier and mellow out the spiciness.[2]
Recipes
Taste: Spicy, fragrant Prep Time: 10 mins Cook Time: 10 mins Total Time: 20 mins Servings: 1 Difficult: easy
Dan Dan Noodles Chili Oil
Ingredients
2 tablespoons Sichuan peppercorns
1 inch-long piece of Chinese cinnamon (gui-pi)
2 star anise
1 cup oil
1/4 cup crushed red pepper flakes
Instructions
In a small pot, add the Sichuan peppercorns, cinnamon stick, star anise, and oil. Over medium low heat, slowly heat to 325 degrees Fahrenheit, and then turn off the heat. Wait 6-7 minutes, then remove the peppercorns, cinnamon stick, and star anise with a slotted spoon.
Add the crushed red pepper flakes and allow them to steep in the hot oil. It should start smelling fragrant, almost like popcorn. Allow the oil to cool. This makes more chili oil than you'll need, but you'll be glad to have it on hand for use in other dishes. Store in a glass jar and keep refrigerated.
Dan Dan Noodles The Meat Mixture
Ingredients
3 teaspoons oil
8 oz. ground pork
2 teaspoons sweet bean sauce or hoisin sauce
2 teaspoons shaoxing wine
1 teaspoon dark soy sauce
1/2 teaspoon five spice powder
1/3 cup sui mi ya cai
Instructions
In a wok, heat a teaspoon of oil over medium heat, and brown the ground pork.
Add the sweet bean sauce, shaoxing wine, dark soy sauce, and five spice powder. Cook until all the liquid is evaporated. Set aside. Heat the other 2 teaspoons of oil in the wok over medium heat, and sautee the sui mi ya ci (pickled vegetables) for a few minutes. Set aside.
Dan Dan Noodles The Sauce
Ingredients
2 tablespoons sesame paste (tahini)
3 tablespoons soy sauce
2 teaspoons sugar
1/4 teaspoon five spice powder
1/2 teaspoon Sichuan peppercorn powder (we ground whole Sichuan peppercorns in a mortar and pestle)
1/2 cup of your prepared chili oil (scary, but yes!)
2 cloves garlic, very finely minced
¼ cup hot cooking water from the noodles
Instructions
Mix together all the ingredients. Taste and adjust seasoning if you like. You can loosen it with more hot water, add more Sichuan peppercorn powder, etc.
Dan Dan Noodles Noodles, Vegetables, And Assembly
Ingredients
1 lb fresh or dried white noodles, medium thickness
1 small bunch leafy greens (spinach, bok choy, or choy sum)
chopped peanuts (optional)
chopped scallion (optional)
Instructions
Cook the noodles according to package directions and drain. We used fresh noodles, but dry noodles are great too. I actually might prefer the dried, because they're a bit less starchy. (Now would be the time to add some of the noodle cooking water to your sauce). Blanch the greens in the noodle water, and drain. To assemble, divide the sauce among four bowls…Mixed vegetables and noodles etc![3]
Similar Food