Ma La Xiang Guo
From Chinese Food Wiki
''Ma La Xiang Guo'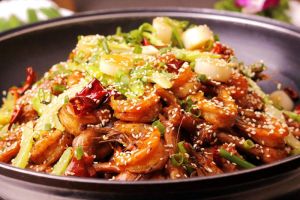 Ma La Xiang Guo
| | |
| --- | --- |
| Alternative names | 麻辣香锅 |
| Pinyin | má là xiāng guō |
| Type | Stewed |
| Course | main course |
| Place of origin | China |
| Region or state | Sichuan and Chongqing |
| Associated national cuisine | China |
| Created by | Chinese |
| Invented | Chinese |
| Serving temperature | >100℃ |
| Main ingredients | Meat, tofu, cauliflower, shrimp |
| Ingredients generally used | Ham, onion |
| Similar dishes | Unknown |
| Cook Time | 20-60 mins |
Introduce
Ma La Xiang Guo also called Hot-spicy pot (Simplified Chinese: 麻辣香锅; Traditional Chinese: 麻辣香鍋; Pinyin: má là xiāng guō;) is a delicious dishes originating from Jinyun Mountain(缙云山) in Chongqing, and integrates local spicy flavor of Sichuan and Chongqing. "Ma La Xiang Guo" belongs to flavor of minority Tu and cooks using method of local citizens with characteristics of mixed flavor, spicy, hot, fresh, fragrant and oily. Though "Ma La Xiang Guo" is spicy flavor, it is very popular all over China. It is tasty with a variety of flavors. You can match diversified raw foodstuffs freely, which also can meet a majority of people with different appetites well.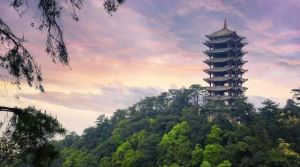 Taste
Spicy, fresh, fragrant, mix and match flavors.
Characteristics
"Ma La Xiang Guo(Hot-spicy pot)" integrates diversified meat and vegetables from all over the country and you can try the flavor of light saltiness or spicy. It has features of spicy but not dry, fresh but not fishy and fragrant lingering aftertaste.
In Chinese(Pronunciation)
Simplified Chinese: 麻辣香锅;
Traditional Chinese: 麻辣香鍋;
Pinyin: má là xiāng guō;
Nutrition
Calories 99(Per 100 grams)
Fat 5.23g(Per 100 grams)
Carbohydrate 9.73g(Per 100 grams)
Protein 4.62g(Per 100 grams)
Calories
Ma La Xiang Guo(Hot-spicy pot) is estimated to be 99 kcal per 100 grams of calories.
Origin
It is stated that local people like to stir a pot of vegetables with seasoning condiments to eat. When there are some guests visiting, they will supplement meat, sea foods, crisp sausage and bamboo shoots; the sliced bamboo shoot is delicate fragrant, the meat is tender and the yuba is fried in advance which can absorb the delicate flavors of all kinds of meats, and the mixed flavors create "Ma La Xiang Guo(Hot-spicy pot)".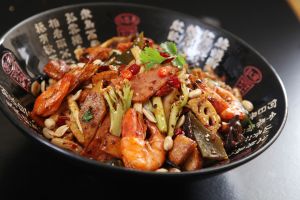 History
Some chefs in Sichuan reorganize and develop Ma La Xiang Guo(Hot-spicy pot) based on spicy and dry pot dish, which becomes suitable to operation of restaurants. There are hundreds of vegetables to be applied. It focuses on spicy, hot, dry and fragrant for flavor. For hot flavor ranking levels, it fits to different people with a little spicy, slightly spicy, medium spicy, heavy spicy, super spicy.
Ingredients
3 cubes of fish bean curd
50 grams of dried tofu
Half of a onion
50 grams of ham
80 grams of lotus root
60 grams of celery
30 grams of shrimp meat
5 grams of coriander
1 spoon of pot flavoring
Spicy peanut
Cumin
Garlic slice
1 spoon of light soya sauce
1 spoon of oil
Some salt
Recipe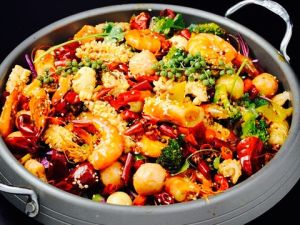 Step 1
Cut fish bean curd, dried tofu and ham into slices, peel, clean and slice the lotus root, clean celery and cut into segments, clean onion and cut into strips, and thaw the shrimp meat for further use. Put oil in a pot and heat, add pot flavoring and stir until fragrance using small fire.
Step 2
Put in garlic slice and stir until fragrance using high heat, put in lotus root slice and stir for 3 minutes and then add fish soybean curd, dried tofu, ham, onion and shrimp and stir for 3 minutes, and then add celery and stir for 2 minutes.
Step 3
Add light soya sauce, cumin, and salt in sequence and stir for half a minute. Finally, put in spicy peanut and coriander and stir-fry well.
Similar Food