Xiangbalao
From Chinese Food Wiki
| | |
| --- | --- |
| Name | 乡巴佬 |
| Name_en | Xiangbalao |
| Foundation | N/A |
| Founder | N/A |
| Location | Wenzhou, Zhejiang Province, China |
| Products | Egg and chicken claw |
| Homepage | N/A |
Introduce
Xiangbalao food is mainly made of chicken such as egg, chicken claw, chicken leg, chicken neck, supplemented by a variety of precious Chinese herbal medicines and seasonings through traditional process. The products mainly include Xiangbalao egg and Xiangbalao chicken claw etc.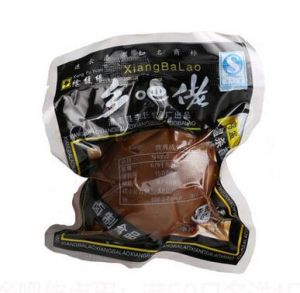 Because Wenzhou businessmen all take the authentic flavor of the Xiangbalao as their own, most of the brine foods made by Wenzhou businessmen have the logo of the Xiangbalao, which makes many people mistakenly think that this is a brand.
Place of Origin
Wenzhou Zhejiang.
Details
5X35g Chinese Food Xiangbalao brine eggs
Feature
Please consume as soon as possible once the package is unfolded
Weight: about 35g
Made in China
Expiration Date: 8 Months
Publication Date
This date will be constantly updated with time,Safe, secure food
Storage Method
Rlease store in cool and dry places. Avoid direct sunlight and high temperature.