Wahaha
From Chinese Food Wiki
| | |
| --- | --- |
| Name | 哇哈哈 |
| Name_en | Wahaha |
| Foundation | 1987 |
| Founder | Zong Qinghou (宗庆后) |
| Location | Hangzhou, China |
| Products | Drinks, tea, juice, coffee |
| Homepage | www.wahaha.com.cn |
Introduce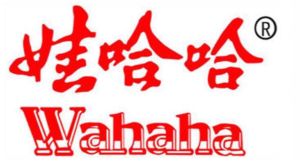 Wahaha. Established in 1987, started with only 3 employees and a loan of 140000 yuan, Wahaha has grown into China's largest beverage corporation and a leading beverage company in the world, in terms of total output and profit. They have established 80 production bases and more than 180 subsidiaries in 29 provinces and municipalities so far, with an aggregate of 30000 employees. They product lines include protein drinks, bottled water, carbonated drinks, bottled tea, juices, coffee drinks, plant drinks, special purpose drinks, canned food, dairy drinks, medicine & health care products, which are classified in ten categories and more than 190 types in total. The sales revenue of bottled water, dairy drinks, and canned food listed among the top positions in the nation.
Wahaha Company
Wahaha is determined to become a leading company with first-rate performance, long-lasting social responsibility and prosperity.
They adhere to the development of real economy through advancing manufacturing industry, supermarket and retail industry, and seize the opportunities in strategic and emerging industries. While maintaining the status of the beverage industrial leader, They plan to gradually enter the business areas of milk powder, machinery, printing, retail, dairy farming and other new industries, realizing diversification and shooting for the Global 500.
It has been run by Zong Qinghou (宗慶後), who exercises operational control over the day-to-day operations.
Wahaha Products
Nutri-Express
Protein Beverages
Packaged Drinking Water
Carbonated Beverages
Tea Beverages
Milk Flavored Tea Beverage
Juice
Botanical Beverages
Flavored Drinks
Dairy Beverage
Canned Food Products
Convenient foods
Beer
Medicine and Health Care Products
Wahaha Nutri-express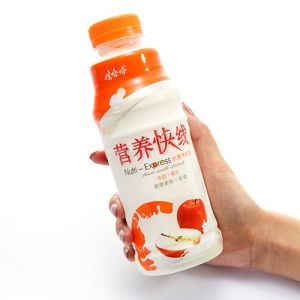 It is a perfect combination of fruit juice and milk, providing not only the nutrition and calcium from milk, but also the five essential nutrients required for the body. With this product, you can handle pressure and take up challenges much easier.
Wahaha AD Milk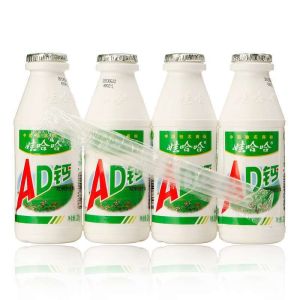 Wahaha Vitamin A&D Calcium drink contains an abundant resource of vitamin A, D, and calcium. The milk powder originated from New Zealand where produces the high-quality milk. The sweet and tart yogurt flavor is classic and delicious which been there for generations.
Nutrition Facts
Serving Size: 1 bottle (220 ml)
Serving per Container: 1
Net wt. 7.3 fl oz
Ingredients
water, sugar, whole milk powder, protein concentrate, sodium cartoxymethyl cellulose, citric acid, phosphonic acid, sodium citrate, calcium carbonate, natrual and artificial flavors, sodium, tripolyphosphate, glyceryl monostearate, sucrose fatty acid esters, potassium sorbate, aspartame and acesulfame, potassium (sweeteners), vatamin A, Vitamin D.
Wahaha Yogurt Drink
Wahaha yogurt drink can maintain intestinal health. It is zero fat and zero cholesterol.
Probiotic fermentation enables better absorption of nutrition. After the fermentation process, protein and other macromolecular nutrients are decomposed into micro molecules which are easier for children to absorb.