Three Squirrels
From Chinese Food Wiki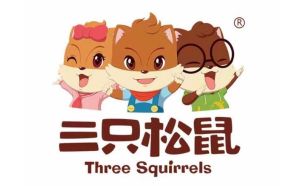 Introduce
Three Squirrels established in 2012, is an enterprise specializing in the research and development, distribution, and online B2C brand marketing of forest food such as nuts, dried fruit, tea, and more. The company Headquartered is located in Wuhu, Anhui Province and is the first company in China to be positioned as a pure Internet food brand.
Three Squirrels adopts the new food retail model, which shortens the distance between businesses and customers. It also initiated the sale of Chinese foodstuff through the internet. Three Squirrels is not only the first food brand tapping into e-commerce, but is also currently the largest snack retailer on major Chinese online retail sites. The company has successfully turned a relatively mundane product into a successful and recognizable domestic brand.
Information
Founded: February 2012
Founders: Liaoyuan Zhang(章燎原)
Also Known As: 3Songshu, 三只松鼠, Sanzhi Songshu
Brand Image
Founder and CEO of the Three Squirrels brand, Liaoyuan Zhang, has decided on squirrels as their brand name because he believed anyone would be fond of adorable animals, also the image of squirrel creates a direct association with nuts. Moreover, the image of the brand – three cute animated squirrels are being used as the company's mascot, on the product's packaging as well as in all kinds of advertisement.[1]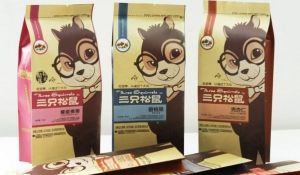 Nuts Series
Pistachios, Hawaiian nuts, Badam nuts, pine nuts, almonds, pecans, peanuts, etc.
Desserts Series
Bread, small cakes, cookies, popcorns, chocolates, etc.
Dried Fruit Series
Dried mango, dried strawberry, dried durian, dates, raisins, etc.
Meat Series
Beef sticks, pork chops, etc.
Drinks Series
Coffee with nuts, herbal tea, etc.