Guangxi Food
From Chinese Food Wiki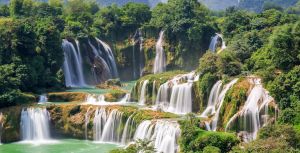 Introduce
Guangxi cuisine consists of the dishes of Nanning, Guilin, Liuzhou, Wuzhou and other major cities, including Zhuang, Yao, Jing, Dong and other ethnic dishes. The snacks and pastries of ethnic minorities are very distinctive. The dishes are peculiar in ingredients and recipes. The urban dishes are famous for game cooking, and the cutting skills are fine, the recipes are exquisite, paying special attention to the freshness of the ingredients. Being deeply influenced by Guangdong cuisine in the cooking methods, Guangxi cuisine tastes light, crisp, tender and spicy.
Famous Food
The famous flavor dishes in Guangxi are: Heavenly Fire Cooked Chicken, Cordyceps Sinensis Stewed Sea Pike, Eleocharis Tuberosa & Pork-stuffed Sunflower-shaped Pie, Fermented Bean Curd & Lipu Turo Braised Pork, Wuzhou Deep-fried Chicken in Tin Foil, Yongzhou Lace Angled Dace, Drunk Chicken with Hua Diao Wine, horse meat rice noodles, Cream Euphorbia Pulcherrima, pepper and chili soup, Guibei oil tea, gecko porridge and so on.
Wuzhou Deep-fried Chicken in Tin Foil 梧州纸包鸡
The color is golden brown and the flavor is attractive. It tastes pleasant, smooth, sweet and soft, with a lingering aftertaste.
Steamed Mandarin Fish of Lijiang River 清蒸漓江桂鱼
It is made by steaming Mandarin fish of Lijiang River together with pork slices, the fish is finely tender, and the taste is very delicious, pleasantly smooth and palatable.
Miao Nationality's Sheep Entrails Soup 苗家"羊瘪汤"
The staple food of goats is herbs, which makes goat meat nutritious. Sheep Entrails Soup is a unique delicacy made by Miao people living in Dashishan mountain area by using the internal organs of goats. It is a high grade dish for catering guests. For more than ten years, Sheep Entrails Soup can be seen in local restaurants and snack bars in the northwest of Guangxi.
Bama Pork of the Native Xiang Pig 巴马香猪
Bama pork of the native Xiang pig is originated in Bama Yao Autonomous County of Guangxi. Xiang Pig is a native rare breed of miniature pig with a long breeding history, stable gene and good quality.
Nanning Wuming Lemon Duck 南宁武鸣柠檬鸭
Lemon Duck is a special dish in Wuming County, Nanning City, Guangxi. The acid of lemon can soothe the fishy of fish, and make the meat soft. The auxiliary ingredient of lemon can eliminate the excessive greasy taste of duck, leaving the gourmets an unforgettable aftertaste.
Snacks
Brewed Tofu 豆腐酿
Brewed Tofu is made of water tofu. It has a unique shape, looks fascinating and tastes freshly tender.
Pig Foot Rice Noodles 猪脚粉
The unique characteristics of Pig Foot Rice Noodles are the wonderful taste of pig foot, not greasy at all, and the soup is also delicious.
Guiling Jelly 龟苓膏
Guiling jelly is now available in many areas, however, as the specialty of Wuzhou, Guangxi, the Guiling jelly of Guangxi is authentic in taste.
Snail Rice Noodles 螺蛳粉
Snail rice noodles are a favorite of many people who like spicy food, and it is also a famous snack in Guangxi.
Nanning Starch Soup dumplings 南宁粉饺
The starch soup dumplings taste quite good, the wrapping is so elastic, and the stuffing is so abundant, tasting delicious!