Braised Pork Ribs in Soy Sauce
From Chinese Food Wiki
Braised Pork Ribs in Soy Sauce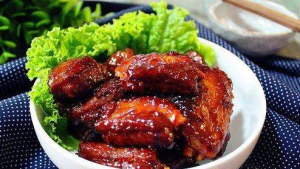 Braised Pork Ribs in Soy Sauce
| | |
| --- | --- |
| Alternative names | 红烧排骨 |
| Pinyin | Hong Shao Pai Gu |
| Type | Braised |
| Course | main course |
| Place of origin | China |
| Region or state | China |
| Associated national cuisine | China |
| Created by | Chinese |
| Invented | Unknown |
| Serving temperature | >100℃ |
| Main ingredients | spare ribs |
| Ingredients generally used | spare ribs |
| Similar dishes | Sweet and Sour Ribs |
| Cook Time | 30mins |
Introduction
Braised Pork Ribs in Soy Sauce (Simplified Chinese: 红烧排骨; Traditional Chinese: 紅燒排骨; Pinyin: Hong Shao Pai Gu;). In the cuisine of southern China, spare ribs are generally red in color and roasted with a sweet and savory sauce. In Chinese cuisine, pork spare ribs are generally first cut into 7-to-10-centimetre (3 to 4 in) sections, then may be fried, steamed, or braised. Braised Pork Ribs in Soy Sauce are also popular in Chinese and American Chinese cuisine; they are generally called hongshao paigu (Chinese: 红烧排骨; pinyin:hong shao pai gu).
Origin
This Chinese braised pork ribs dish is a classic traditional Chinese dish almost every Chinese family knows how to cook and loves. It's a must-have for major holidays such as Spring Festival (a.k.a. Chinese New Year).[1]

Prep Time: 10mins
Cook Time: 20mins
Total Time: 30mins
Servings: 2
Difficult: easy
Taste: Salty
Recipes
Ingredients
1 pound pork spareribs, cut into 3 inch pieces
1 tablespoon vegetable oil
1 (1 inch) piece fresh ginger root, sliced
5 green onions cut into 2-inch pieces
1/2 teaspoon ground cinnamon
2 cups water
1 1/2 tablespoons soy sauce
1 teaspoon white sugar
1 teaspoon rice wine
1/4 teaspoon salt
1/4 teaspoon pepper

Instructions
Bring a large pot of water to a boil, then add the spareribs, and cook uncovered for 3 to 5 minutes. Drain in a colander and set aside.


Heat the vegetable oil in a skillet over high heat. Stir in the ginger, green onions, and cinnamon; cook and stir until fragrant. Stir in the spareribs and cook for 3 to 5 minutes. Pour in the water, soy sauce, sugar, and rice wine. Season with salt and pepper. Bring the mixture to a boil, then reduce heat to low and cover. Simmer until the spareribs are tender, about 1 hour.[2]